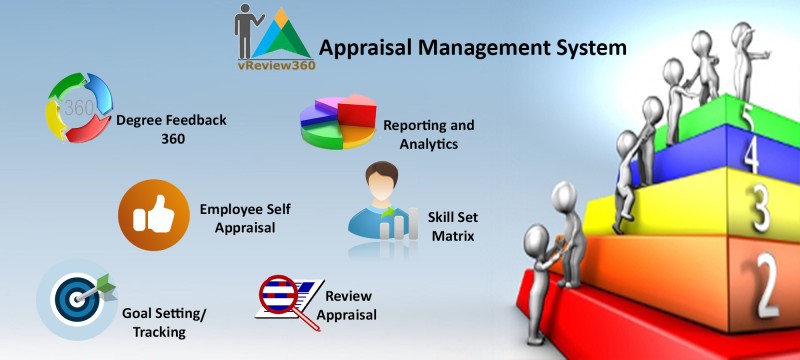 vReview360 – vDoIT Cloud based Performance Appraisal System
Do away with a manual performance appraisal of employees. Our interactive performance appraisal system helps you motivate and nurture your workforce to meet your organization's goals. It is perfect for leadership development and personal development conversations. You can manage goals, tasks, performance reviews, compensation and benefits. And the managers can set up team-wide or company-wide 360 degree feedback events and identify coaching needs and top performers in real-time. The feedback is given based on competencies, skills and behaviors. Goals, Feedback, Reviews and Development are tracked together and feed reporting data.
Some of major features of vReview360 are:
360-Degree Feedback
Employees can review their peers that allows managers to quickly gather insights about each team member.
Various types of feedback for peer review.
Reports for team managers
Feedback feed
Goal Setting and Tracking
Leadership team uses company objectives to create goals for team and individuals. The system can be used to track progress, followed up by the manager's rating on completed goals.
Associate goals with jobs
Track goal progress
Manager rating
Employee Self-Appraisal
Let employees outline their merits and review their results during each appraisal cycle. Employees can elaborate their list of accomplishments and reviews by filling out an appraisal form.
Workflow based manager and self rating
Automatic review reminders
Review Appraisal
To ensure a systematic appraisal process, you can allow higher level managers to review the appraisals. After you've consolidated the performance reviews, all it takes to complete them is a single click.
Multi-level reviews
Skill set review
Appraisee and peer rating review
Reporting and Analytics
View comprehensive reports that give you the big picture, both for evaluating individual performances and for evaluating your organization as a whole. Its powerful analytical features help you easily evaluate the performance of your people and will help you identify areas for improvement
Goals Report
Annual Appraisal Report
User Rating Report
Skill Set Matrix
Need the names of employees who are domain experts? Or how about programmers who know Java? Just use the Skill Set Matrix. It gives you an overview of the kinds of skills your employees possess, so you can put the right person on the right project.
Feature Checklist:
360 Degree Feedback
Ad Hoc Reviews
Alerts / Reminders
Appraisal History Tracking
Competency Tracking
Custom Rating Scales
Custom Review Forms
Goal Setting / Tracking
Individual Development Plans
Peer Appraisals
Review Cycle Tracking
Review Form Templates
Self-Appraisals
Weighted Performance Measures
Let's Work Together
We look forward to start a success journey with you. Please do write to us how can we help you.