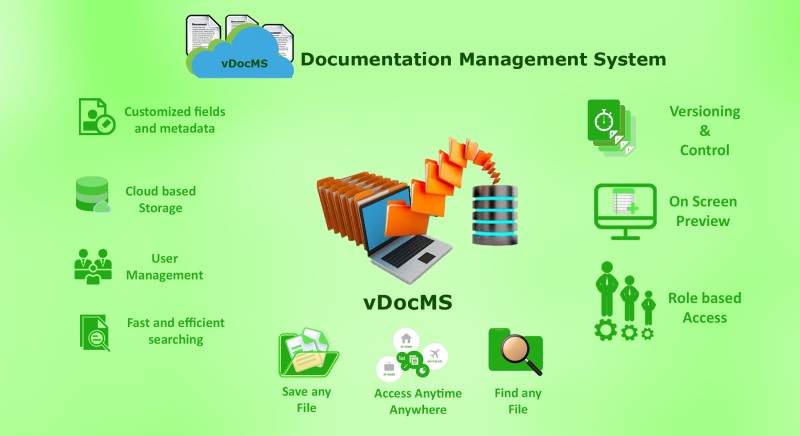 vDocMS – "No More Papers. All Documents are at your Fingertips"
Create, Store, Share and Manage all your Enterprise Documents in the Cloud!!
vDocMS is an affordable web-based robust electronic document management system that easily captures, distributes, stores, and manages your documents and data in a secure, centralized location providing instant access to information from anywhere.  With strong features like Version Control, Auto Folder Structure, Improved Security & Regulatory Compliance, Mobile Compatible, Custom Meta Data, Document Expiration, Workflows and others. It provides wide range of search capabilities, comprehensive Dashboards, fully configurable access control and audit trail options. It is easy to use with modern UI thus reducing the learning curve. Once implemented, we take care of on-going maintenance, making it easier for you to focus on running your business.
Features Checklist
Access Controls
Archiving & Retention
Collaboration
Compliance Management
Document Assembly
Document Indexing
Forms Management
Full Text Search
Version Control
Let's Work Together
We look forward to start a success journey with you. Please do write to us how can we help you.