Blockchain As A Service
As a leading blockchain development company, we begin by carefully analyzing how blockchain technology could benefit your business and increase organizational trust and transparency.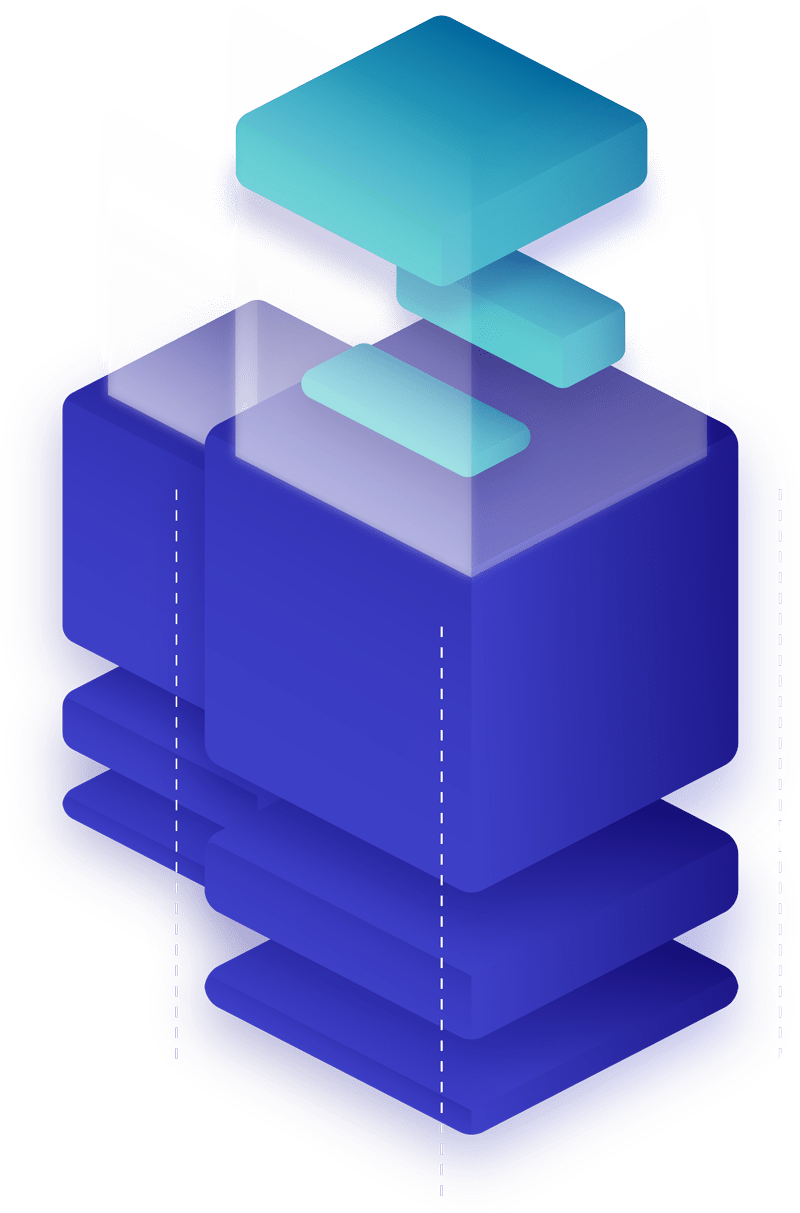 Cutting-edge blockchain solutions
Our Blockchain solutions are designed to help businesses improve their operations and increase transparency. Get tailor-made solutions using our blockchain app development services.

Blockchain Technology Consulting
Our team of blockchain technology consultants works closely with clients to identify use cases for blockchain technology that can add value to their operations. We evaluate the client's business processes and technology infrastructure to identify areas where blockchain can be most effective.

Enterprise Blockchain Development
We use our expertise in blockchain technology to identify the right platform and architecture for the client's specific requirements. By utilizing the potential of cutting-edge technology to create an everlasting blockchain solution.
Our team of DApps developers creates applications that are decentralized, using blockchain technology to ensure that data is distributed across a network of nodes. This ensures that the application is secure, transparent, and resilient against attacks.

We provide clients with a way to create their own digital assets for fundraising or incentivizing their users. We test and deploy the token in a controlled environment, ensuring that it meets the client's requirements and performs as expected.
NFT Marketplace Development
We design a user-friendly interface for the NFT marketplace that is easy to navigate and provides an engaging experience for users. This includes features such as search filters, sorting options, and support multiple blockchain network.

Smart Contracts Development
Our smart contract development solutions can be deployed on multiple blockchain platforms, including Ethereum, Polygon, EOSIO etc. This flexibility ensures that clients can leverage the benefits of blockchain technology, no matter what platform they prefer.

Blockchain-Powered Metaverse Development
We design and develop a decentralized infrastructure for the metaverse, leveraging the benefits of blockchain technology. This infrastructure ensures that ownership of digital assets and data is decentralized, and transactions are secure and transparent.

Decentralized Finance(Defi)
We develop blockchain solutions that enable the creation and management of financial products such as loans, insurance, derivatives, and asset management.
DAO (Decentralised Autonomous Organisation) Development
We design, develop and implement governance systems that enable decentralized decision-making and voting. The security, immutability and transparencies policies of blockchain technology are inherited while developing your DAO.
Without a server or centralised authority, users can send transactions over a decentralized network connected via blockchain. In order to provide you with the best blockchain development service, we utilize an array of blockchain networks suited to your needs.
Enterprise Content Management Systems
Enterprise Business Automation
Application Development and Support
Solana
Unparalleled scalability, high throughput, and low transaction costs for seamless handling of complex decentralized applications and rapid growth.
Ethereum
Pioneer in smart contracts and decentralized applications, enabling programmable money and a thriving ecosystem of decentralized finance (DeFi) applications.
EOS
High-performance infrastructure designed for scalable decentralized applications (dApps) with low transaction costs and fast confirmation times.
Polygon
A versatile scaling solution that enhances Ethereum's capabilities, offering high-speed and low-cost transactions while ensuring interoperability with other blockchains.
Cardano
A scientifically-driven blockchain platform that combines high security, scalability, and sustainability, utilizing a peer-reviewed approach to ensure the utmost reliability and innovation.
Polkadot
Near
A developer-friendly platform that combines sharding and consensus mechanisms to achieve high scalability and low transaction costs, making it ideal for building decentralized applications with a seamless user experience.
Corda
Designed specifically for businesses, Corda offers a private and permissioned blockchain solution that enables secure and confidential transactions between trusted parties, with a focus on maintaining privacy and regulatory compliance.
VDOIT Blockchain Development Process
BLOCKCHAIN TECHNOLOGY CONSULTING
Before constructing blockchain solutions, our developers should understand What, why and How blockchain technology can benefit your business and bring trust and transparency to the system.
NEED ANALYSIS
In order to understand the features and functionalities that must be included in your project, we analyse your requirements. This aids us in creating a development plan that is beneficial for you.
DESIGNING
The deployment's most inventive components require creative contributions. Our blockchain team develops user-friendly designs that are simple and effective for end users.
BLOCKCHAIN DEVELOPMENT
Based on the initial feedback, our blockchain development team creates a top-notch blockchain product for your company.
TESTING
To ensure client satisfaction and a great user experience, our developers thoroughly test each blockchain product.
DEPLOYMENT
Each time we deploy blockchain products on different platforms where they are easily available to a possible audience, we do so in accordance with the standard Protocols.
Why VDOIT for Blockchain Development Services?
Agile Development Process
Cost-Effective Development
Let's Work Together
We look forward to start a success journey with you. Please do write to us how can we help you.