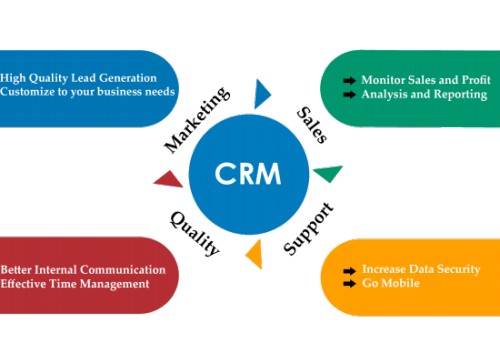 Customer Relationship Management – Not just a Technology, but a Business Strategy
Customer Relationship Management is a system that allows a business to maintain all customer records in one centralized location that is accessible to an entire organization. CRM software is essentially meant to address the needs of marketing, sales and customer service and support divisions within an organization and allow the three to share data on clients to improve customer service. A good CRM program will allow a business to acquire customers, increase the value of the customer to the company, retain good customers, and determine how customers can be given a higher level of service.  The  big benefit of CRM is the visibility of everything going on in your company. If you want to provide a better service to your customer, you have to be able to manage everything from complaints to sales opportunities.
Why vDoIT a good choice for CRM Solutions?
vDoIT Technologies possess considerable experience in implementing CRM solutions which are beneficial for businesses to streamline their interaction with customers and prospects. In our CRM development process, we will guide you through all the stages of the solution implementation giving sound advice and helping you select the right strategy. Implementing vDoIT's CRM solutions will enable your business to step ahead in the competition and come close to your potential customers. CRM is an important tool for the organizations as it keeps records etc for the business. Our commitment to delivering customer value is genuine. Purchasing and implementing a new CRM solution can be an exciting yet challenging endeavor but when you have an experienced team it makes the task easy and interesting. The employees have  great hand over experiences and this will make the work much easier and efficient for your business. It is important for us to manage the expectations of our customers and provide them with innovative products and services in a manner which makes them loya. It is this need that made us opt for a CRM solution. Custom CRM Solutions provided by vDoIT Technologies:
Sales Force Automation
Bitrix24 CRM
Customer service and support
Customer Self-service
Marketing Automation
Partner Relationship Management
Mobile solution, etc.
Let's Work Together
We look forward to start a success journey with you. Please do write to us how can we help you.