Mr. Narinder Kamra
CEO, MD
Seasoned IT Professional with 20 Years experience of working with Apple, FedEx, Lowes, HCL Technologies. Over 10 years of US experience gives Narinder an edge to understand global market in detail.
Ms. Neetu Gupta
CTO, MD
A result oriented professional with 17 years of global operational experience in variety of industries and geographies. She ensures high quality professional experience to employees, clients and business stakeholders associated.
Dr R K Tyagi
President - Aeronautical Society of India
Dr Tyagi was the Chairman of Hindustan Aeronautics Limited from March 2012 to January 2015. He was Chairman of the Board and Managing Director of Pawan Hans Helicopters Limited (PHHL) from May 2007 to February 2012.
Mr Naveen Sharma
Senior Enterprise Architect – NEC
An 'Engineering Process Group Member' in NEC with his proven leadership in CMM Assessment, End to End Engineering Processes with extensive experience of almost all technology stacks. He has significant experience to work in Japan.
Mr Sanjiv Jain
Leadership Experience in IBM, HCL
Worked with World's most prestigious Organisations like IBM, HCL on leadership & management roles in HR Domain. He has driven the game changing programs. He is the recipient of Individual Eminence & excellence award.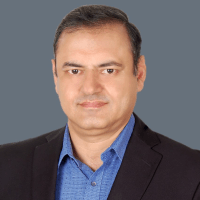 Mr Arvind Dhamija
Platform Engineering Leader
Mr Arvind has led teams to evangelize building high value reliable, scalable platforms. He brings in rich experience in digital transformation initiatives. His expertise lies with optimizing cost, bringing operational efficiencies and new avenues for business growth.
Marlen Bissaliyev
Advisory Board Member, vDoIT
-CIO, JSC "Interteach", Insurance & Healthcare, Almaty, Kazakhstan
-Senior Lecturer, Al-Farabi Kazakh University, Almaty, Kazakhstan
-Notable Alumni, University of Wollongong, Dubai, UAE
Let's Work Together
We look forward to start a success journey with you. Please do write to us how can we help you.